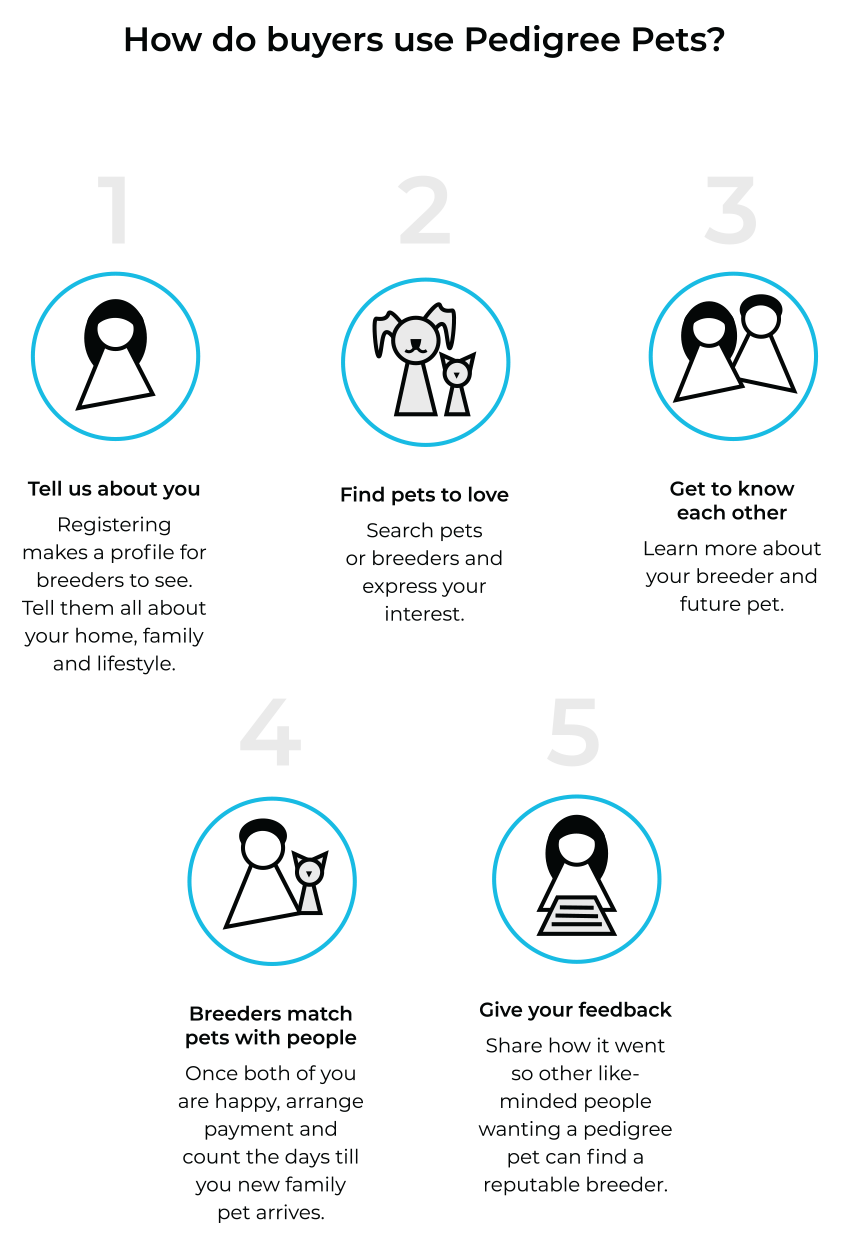 What exactly is Pedigree Pets?
Pedigree Pets is a platform aimed at bringing transparency to the breeding world in order to link quality homes with reputable breeders. Its creating an environment where puppy mills and kitten farms have no place and where the health of the animal always comes first. Its about showcasing breeders who are open, honest and willing to be part of the revolution.
What is a Pedigree Pet?
A Pedigree Pet is one that has been bred AND registered in accordance with the rules and regulations of the breeders registering body. Every Pedigree Pet will come with a pedigree (showing family for 4 generations) and their registration number (which can be confirmed with their registering body).  This pedigree provides proof of breed.
Why buy a Pedigree Pet?
Buying a Pedigree Pet means:
·         You have a record of genetic history.
·         You have ongoing access to a breeder with knowledge about the breed.
·         Reputable breeders will have done relevant genetic health testing and scans for the breed, note that in some cases this does not remove all risk, but will significantly decrease it.
The pets used for breeding will have been chosen for that purpose.
Why use Pedigree Pets?
Pedigree Pets is a unique community capturing registered breeders in one place. This saves you time as a buyer, as you can easily see what is available, whether litters are due shortly, are able to easily compare various breeders and are able to see unbiased feedback on other buyers experience with the breeder.  This transparency is what sets Pedigree Pets apart and gives you as a buyer confidence in your breeder. 
How do I choose a breeder?
Choosing a breeder is a personal thing and it all depends on your beliefs. Each breeder has their own breeding philosophy, their own ways of doing things and their own requirements in relation to the animals that they breed.
Look at the different breeders and compare the profiles provided on this site. Depending on location, some breeders allow visits anytime, some only after a certain age and some not at all – it can be intrusive letting strangers into your home. Some breeders do so as a hobby, some do so as a business and different countries have different legislations that control the way a breeder must operate.
Ask questions, health, environment, medications, get a feel for the breeder;  you may wish to make a phone call/skype call or prefer to deal through email. Depending on other commitments (ie work & family) some breeders will be more responsive than others, you need to choose one that suits your requirements.
Finally, review the feedback provided by other buyers. The ultimate goal is to have a happy, well socialised, health pet.
Why do you ask me so many questions upon registration? Why do I need to do a biography? Do I really have to add photo's of my home?
Breeders spent a lot of time and energy raising the pet you are welcoming into your home and just like a parent inspecting their childs first flat, they want to know where their babies are going to.
The information supplied in your biography is to enable the breeder to determine the suitability of your home for the breed you are enquiring about. Some breeds have specific care requirements that need to be met. Being able to demonstrate you understand the breed and have researched it prior to contacting a breeder shows you are committed to providing a quality forever home for one of their precious pets.  
Photos' are optional, but an easy way to show the breeder the home the pet will be going to. Some buyers provide photo's of not only the home, but also the family - both human and animal.
It is our recommendation that you provide a detailed insight into the prospective pets new home environment and family, reducing the need for breeders to ask you additional questions, over and above those which are requested by Pedigree Pets.
What happens with my information?
Your information is 100% private unless you choose to share it. In order for a breeder to know you are interested in a pet from them you will need to place a comment on their pet listing or their breeder profile in the breed directory. Its important to note that no one can see your information unless you give them access by commenting on their listing. This will then notify the breeder that you are interested. This comment allows the breeder to view your profile, seeing the photo's and all the information you have put into your profile.   This is why its so important to let the breeder know what you are after & what home you can provide one of their pets. A breeder can then add you to their approved buyers list, can then reserve & sell a pet to you. They will not receive your contact details until the process is complete. 
Does it cost me to register?
No, it is currently free for buyers to register.
Do I have to place feedback? Why annually?
Feedback is a key feature of the site – it enables buyers to compare breeders and to choose reputable breeders. The feedback provides transparency over the number of pets being bred by a breeder and also the quality of the pets being bred. The 1 week, 1 month & annual thereafter feedback enables both the breeder & Pedigree Pets to assess how well the pets were socialised and how healthy they are throughout their lifetime.
Do you really contact me to ask my opinion on the breeder?
Yes, we may do. Pedigree Pets aims to promote reputable breeders, and to assist in this we may ask you additional questions over and above the feedback placed.
What happens if a breeder does not mark me as an approved buyer?
The choice on who to sell to rests with the breeder and each have their own criteria that they prefer. It may be that they don't believe it's the right breed for you, or for your environment, or that they prefer to sell to homes without small children, or to homes with children. Its personal preference, and the choice is the breeders to make. After all, they spend a lot of time with their animals and want the best for them.
If this happens to you, check that you are a suitable home for the breed you've selected (ie a giant Rottweiler in an inner city apartment), and if you are, contact a different breeder.